"Sending Seelas Away" Slips Between the Sheets of Sexy Fantastic Magazine Issue 2!
Yes, my sensual and moving story of a woman and the price she pays for loving a mysterious stranger has come out in Fantastic Magazine, Issue 2, and is waiting for you!
But wait, there is MORE!
Here's a little tease, a Sexy Fantastic Heroine Sneak Peek, featuring "In the Red" music track by Seduction Revolution. Photos and full song available in Issue 2 of Sexy Fantastic.
And yet more! Here's little taste of Sexy Fantastic's Audio Drama Luck is for Suckers.
The full song and the entire audiodrama are only available in Sexy Fantastic Magazine Issue 2
The issue is packed full of sexy fiction, smart interviews and articles, music, and cocktail recipes to stimulate your mind and your palate!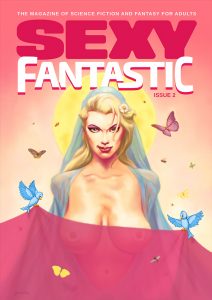 Check it now out at https://sexyfantasticmagazine.com/