Anthologies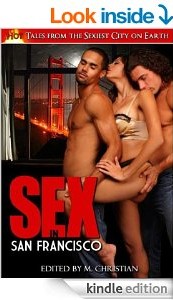 Sex in San Francisco: "Cherry Blossoms"
What it is about San Francisco that seems to promise, and even promote, sex: sex hot and heavy, sex tender and loving, sex straight and gay, sex kinky and vanilla, in fact, just about every type of sex that can be imagined?  Why is San Francisco considered such an attraction for lovers of all kinds and such a hotbed of steamy eroticism?  Why is this city, instead of so many others, called — with lusty admiration as well as scathing jealousy — the Id of America, Sodom by the Sea, Bagdad by the Bay, and Sin Francisco? Some of the best writers of erotica in the nation seek answers to that question in Sex In San Francisco. These writers show why San Francisco is so damned sexy, and through their stories they show you the erotic heart of the city and its residents.  Donna George Storey, PM White, Renatto Garcia, Adele Levin, Shanna Germain, Craig J.  Sorensen, Theda Hudson, Jude Mason, Neve Black, Mykola Dementiuk, Jeremy Edwards, and Anna Reed with Lily Penza have created wonderful erotic tales, each of which takes a unique approach to probing what makes San Francisco such a sexy place to be in and to dream about.  Each author uses her or his own amazing literary – and yes, erotic – vision to share with us a very personal interpretation of what constitutes sex in the city of the Golden Gate. These authors may be looking at the same city and viewing the same buildings and landscape, but for each of them San Francisco is, like sex, a very personal, and unique, thing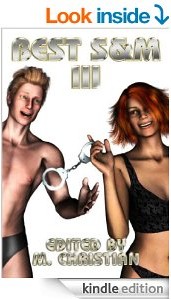 Best S/M Erotica Volume 3: "Shaping Genevieve"
Welcome to Best S/M Erotica Vol 3: Still More Extreme Stories of Still More Extreme Sex! In these pages you'll find light stories, dark stories, powerful stories, subtle stories, fierce stories, and even romantic stories – but all of them dealing with the basic idea of consensually giving up, or taking, sexual power and control. If you've only been interested in what S/M is and can be, or if you're an old hand to the scene, these stories will open doors to unexplored sexual and sensual worlds, expand your erotic horizons to new and maybe even challenging new ways of looking at, and experiencing, sex play.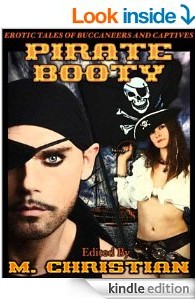 Pirate Booty: "Logs on the Beach"

Sizzling tales of pirates and captives. Here's your chance to swing by or force others to swing by all-kinds of yardarms in this outrageous collection of erotic tales by Zander Vyne, Jude Mason, Theda Hudson, Catherine Lundoff, Billierosie, PM White, Joe Vadalma, Wade Heaton, Jay Lawrence And Harry Neptune, RV Raiment, Karen Taylor, and Blake C. Aarens – many of them our top authors – and edited by M.Christian. Full of the funrestrained, twisted passions and lusts that make pirates so hot! Populated by historical, contemporary and space-faring privateers … plus a good dash of BDSM to spice up the brew.  Pick up this anthology and you will not be disappointed.
Short Stories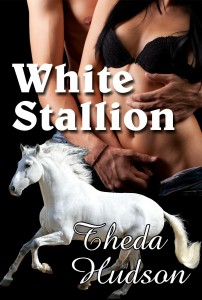 White Stallion
Marin is a virgin. That in itself isn't a problem; it's what her cousin tells her about the first time she'd made love. "It isn't anything special." Marin believes that giving up her virginity should be nothing short of spectacular, so she sets out to find Mr. Right, the one who will show her the true pleasures between a man and a woman. She soon learns it's a frustrating and seemingly impossible goal…until she meets Evan